A one-day seminar was held today at Karachi University Dr. Saleem Alzaman Siddiqui Auditorium on the topic of renewable energy and its acquisition of renewable energy sources and the present and future situation of Pakistan. The conference was jointly organized by the Department of Geology, University of Karachi, Karachi University Geology Alumni Association, and Pakistan Association of Petroleum Geo Scientists. Top domestic and foreign energy experts attended the seminar and read their research papers.
Dr. Iram Bashir, President, Department of Geology, Karachi University, while inaugurating the seminar, welcomed the participants and experts. The recitation was from Surah Rehman in the Holy Quran and later the national anthem was recited.
In the first paper of the seminar, Syeda Maryam Tariq Hassani of Ricketts Bankster highlighted the disadvantages of the rapidly rising average temperature in the country and spoke about the possible disadvantages, and stressed the need to understand the situation. She urged on the need to reduce the rising carbon dioxide in the atmosphere and said that the time is not far when the rapidly rising temperature in Pakistan will reach dangerous levels which will cause severe damage to our food crops. There could be a famine that would lead to an economic crisis. Therefore, measures to reduce environmental pollution should be taken on an urgent basis. Further delay in this is detrimental to the nation. The government and the people need to work together to save the world from pollution.
"Further delay to reduce Environmental pollution will be determental to Nation… Syeda Maryam"
Dr. Ibrahim Zia of the National Institute of Oceanography briefed the participants on the potential for energy generation from tidal waves and related technologies and said that at least three sites in the sea creek near Karachi have the potential to generate electricity. But work has not yet begun and more research and experiments are underway. Preliminary research in this area is a costly task. Secondly, the interest of political governments and bureaucrats in this energy source is very low as most people are not aware of the possibility of generating electricity from tidal waves.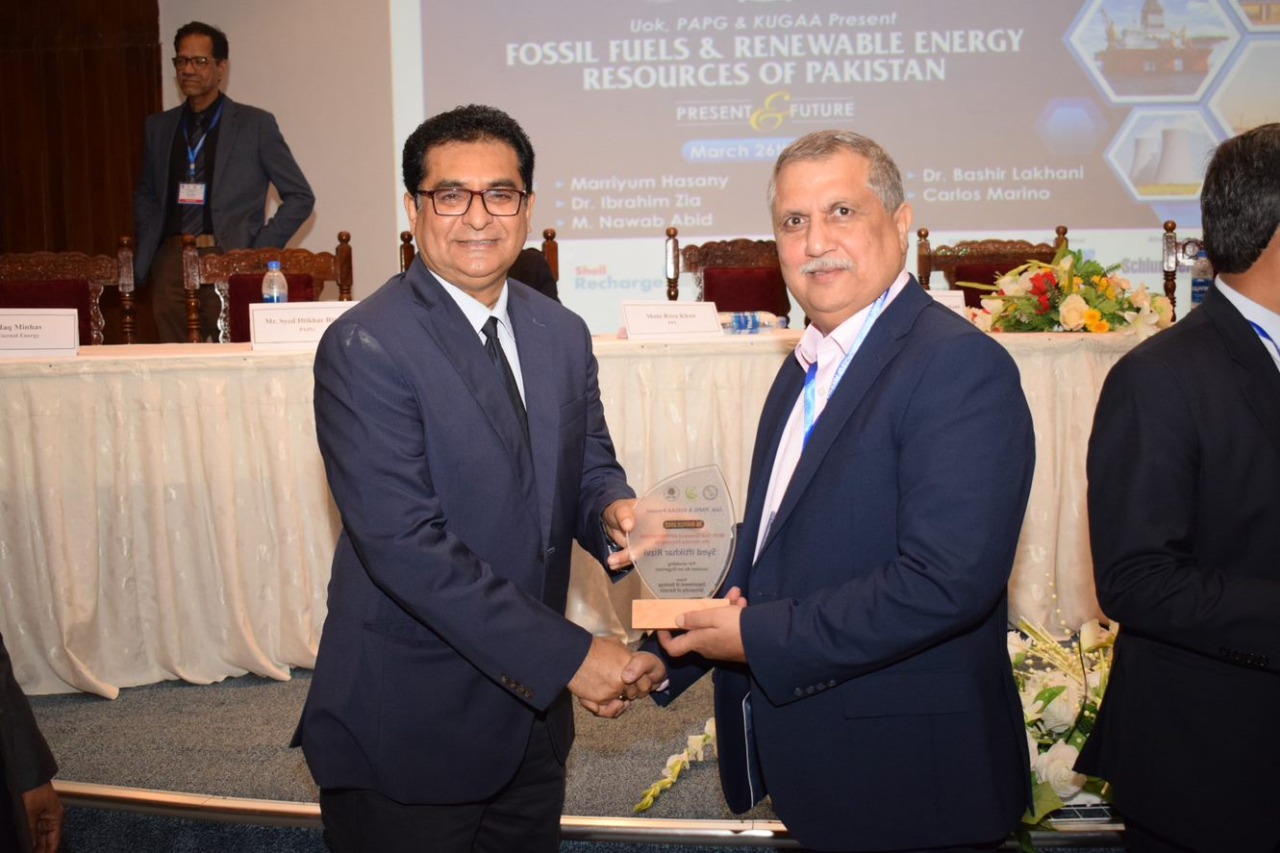 Mr. Nawab Abid, Engro's coal expert, highlighted the coal reserves and their use in Pakistan and said that the experience that Engro has had in generating electricity by successfully extracting Thar underground coal is also unique from a business point of view. Successful companies can learn a lot from this experience so that local coal can be used for energy generation which is helpful in getting cheap electricity and also saves a lot of foreign exchange.
Government of Sindh is very serious about energy and especially renewable non-conventional energy sources.
Dr. Mazhar Hussain Baloch of Shaheed Zulfiqar Ali Bhutto Campus of Mehran Engineering University Khairpur Mirs said that wind power is being generated in Sindh and Sindh is a very useful region for this power. This potential exists in the coastal areas of Sindh and Balochistan. More windmills can be installed to generate electricity. One thousand megawatts of electricity will be generated from already completed and under-completed windmill projects.
Haq Minhas, an oil expert, said that more oil and gas could be produced from the old and closed fields of oil and gas in Pakistan if modern methods of production were used. Seventy to 90 percent of the world's oil is successfully produced from a single field, while Pakistan produces only twenty-five to thirty percent.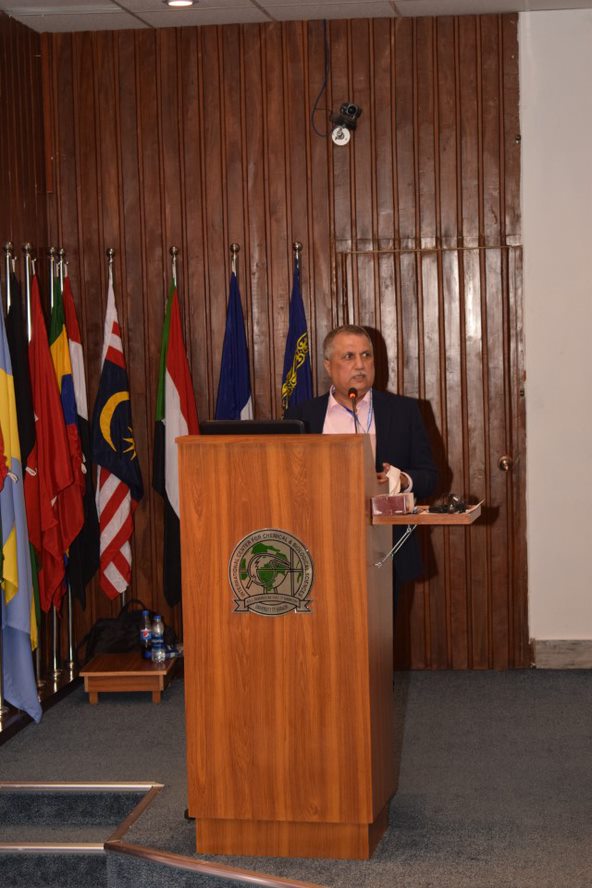 Dr. Bashir Lakhani, an expert on dams and water resources, said that about 60,000 megawatts of electricity can be generated from rivers and water sources in Pakistan while only 9,000 megawatts of electricity is being generated. It is a difficult task but the energy obtained is the cheapest. There are many places in Pakistan, Khyber Pakhtunkhwa, and Gilgit-Baltistan where abundant electricity can be generated by building dams. Due to the length of the dam project, political governments are less interested. Therefore, there are few dams in the country.
Carlos Marico of France, who specializes in the technology of cooling and heating homes and buildings with underground heat, said that the underground heat is also usable and can be used for everyday and commercial purposes, while in some European countries. The process has begun, and although it is still in its infancy, its experiments have been very successful, and groundwater can be easily used.
60,000 megawatts of electricity can be generated from rivers and water sources in Pakistan while only 9,000 megawatts of electricity is being generated.
A panel discussion was also held at the event in which the experts expressed their views and answered the questions of the audience. Moin Raza Khan, Chief Executive and Managing Director of Pakistan Petroleum Limited, Haq Minhas of Eternal Resources USA, Haroon Rasheed, Former Managing Director of Shell Pakistan, Reservoir Modeling General Manager of OGDC and Syed Iftikhar, Chairman of PAPG Mustafa Rizvi, Dr. Zaigham, Former Professor, Department of Geology, Javed Hanif, University of NED and Dr. Asghar Ali, Economist.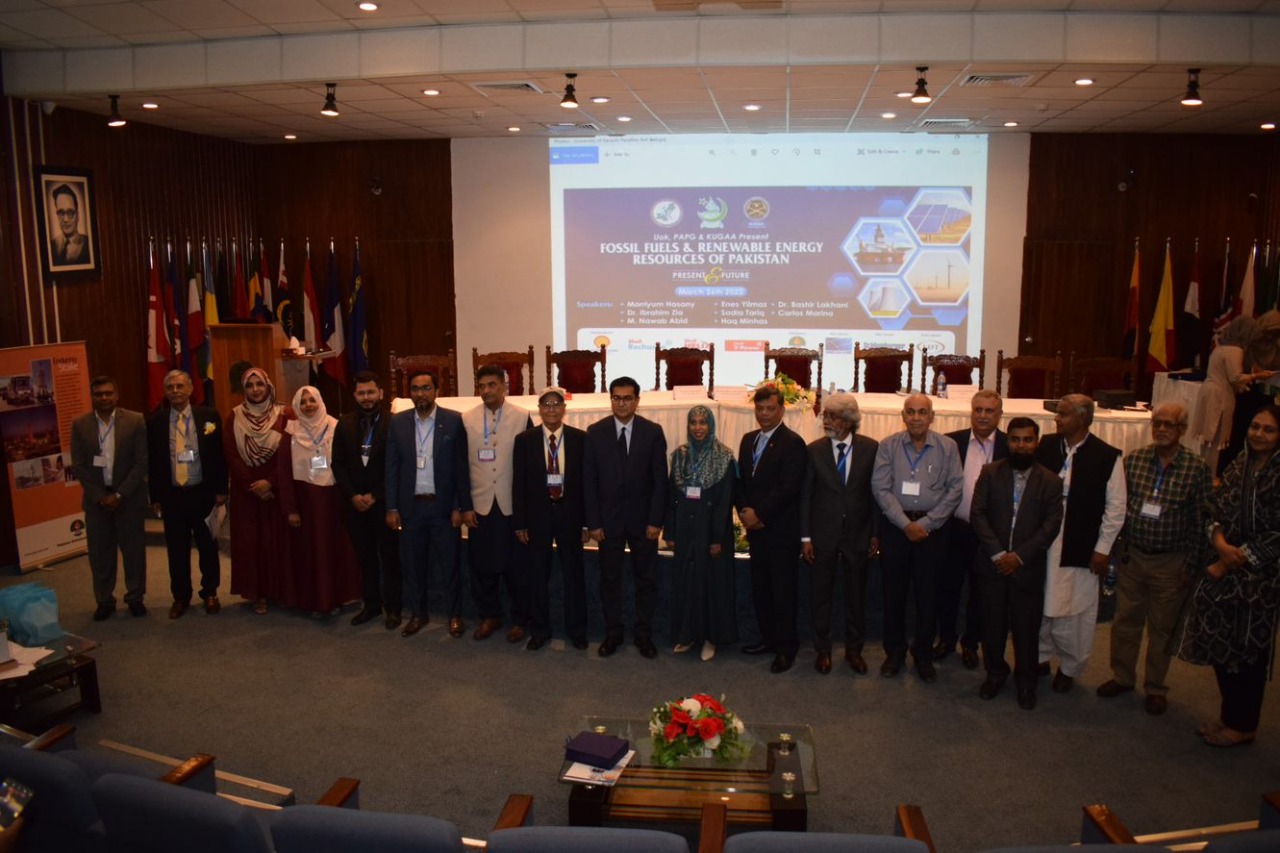 At the end of the program, the special guest Abu Bakar Ahmad Madani, who is also the Energy Secretary to the Government of Sindh, congratulated the participants on holding a successful dialogue and said that the Government of Sindh is very serious about energy and especially renewable non-conventional energy sources. He said that significant progress has been made in this regard. He said that there are air corridors in Sindh where domestic and foreign companies are trying to get electricity from windmills.
At the end of the ceremony, prizes were distributed among the participating experts, teachers, event organizers, and students of the Department of Geology who won the Imperial Barrel Award, an international competition organized by the American Association of Petroleum Geologists. Syed Tariq Hassani summarized the proceedings of the negotiations in which he answered the questions raised by the negotiating experts and mentioned the expected steps for improvement.
In the end, the former president and founder of Koja Arif Kamal presented a commemorative shield to the special guest. Geologists Arif Kamal, Jamal Azhar, Zeeshan Javed, Dr. Maria Kaleem, Syed Tariq Hussaini, Amanatullah Khan, and Syed Iftikhar Mustafa Rizvi also addressed the function.